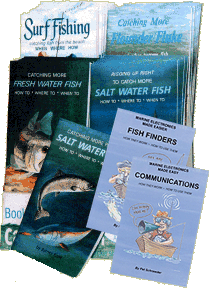 "TACKLE SHOP HELPER"
How To Catch More Fish
If you are a dealer representing tackle shops, marinas or retail stores that have fishing departments, you need to give this Web Page a look. We have one of the most unique and valuable items any establishment representing the fishing public can use - it's called the The Tackle Shop Helper booklet series.
To provide your customers with the value-added benefits of useful fishing information and increased sales, select from the menu items below to find out how The Tackle Shop Helper can help you.
---
For information on obtaining these books, select from the options below:
---
Contact Information
e-mail: browe@intercom.net
Toll-Free Phone: 1-888-598-9598
Fax: 410-641-7624
Postal Address: 11427 Manklin Creek Rd.; Ocean Pines, MD 21811
---
This site is designed and maintained by
Internet Business Strategies, Inc.
---
Copyright (c) 1996, 1997 Internet Business Strategies, Inc. All rights reserved.